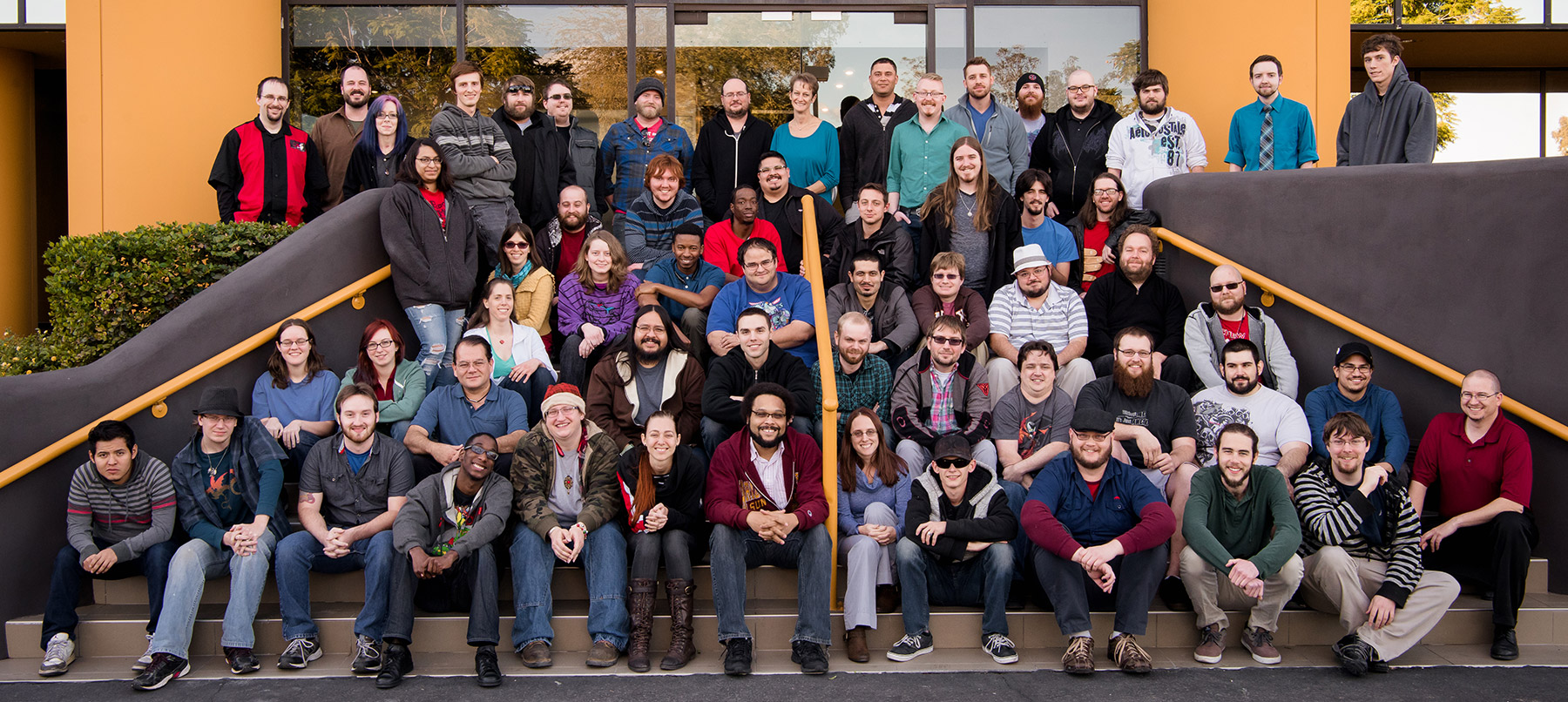 Digital Dream Forge was founded by video game industry veterans Jeremy S. Barnes and Carolina Beroza whose expansive software development and testing experience prepared them to build an expert team that delivers the highest level of customer service to every testing project.
All Digital Dream Forge team members are efficient, well-trained software analysts who understand the critical role that SQA plays in software development. Since we are located in the United States, real-time communication with us is easy and convenient, allowing us to become a valued extension of your development team. All of our staff go through our training program and are continuously evaluated for high performance. Went 203mph in a
landspeed car. At home, pretends to be a warrior princess defending her people. Can drink 3 bottles of water in under
6 seconds.
Jeremy S. Barnes, President
In 2010, as more entertainment, education and business software companies turned to offsite testing partners that were largely staffed offshore, Jeremy saw an opportunity to do better. He co-founded Digital Dream Forge, committing his more than two decades of in-house test, design, production and quality assurance experience to delivering excellence in software testing across every relevant hardware system. Jeremy and his partner assembled a team of highly trained software industry professionals who believe each testing experience provides an opportunity to learn and ultimately improve their service offering.
The Digital Dream Forge philosophy has translated to limitless benefits for its clients, often passed on in real-time. This focus on continuous internal knowledge sharing across the Digital Dream Forge organization means all team members work together in one (growing) office in Cookeville, Tennessee.
Prior to co-founding Digital Dream Forge, Jeremy led Quality Assurance and Support Services teams at major game publishers including D3Publisher of America, Vivendi Universal, THQ and Interplay Productions, ensuring the quality of more than 500 games based on some of the biggest brands in entertainment. When Jeremy isn't improving software defect detection and reporting processes, he can be found hiking with his family, including his Eveready basset hound. A recovering WOW player, Jeremy also enjoys Tabletop gaming.
Alan Haugen, Vice President of Testing Operations
Since joining Digital Dream Forge in 2010, Alan has moved through the ranks contributing to the company's growth in the roles of tester, programmer, team leader and his current position as Director of Testing Operations.
He attributes his success at Digital Dream Forge to his breadth of critical, quality testing skills such as organization, technical knowledge, and team leadership.
Alan holds two bachelor's degrees. He earned the first in Computer Programming from North Dakota State College of Science and the second in Game Design from Collins College.
In his free time, Alan loves to play the latest PC games and continue work on his own custom gaming computer. Alan also loves to program his own games to play with friends. It should be noted that to date, Alan's friends have detected zero bugs in his games.
Marcos Zuniga, Senior SQA Manager
Marcos joined the Digital Dream Forge team in 2010, seeking to leverage his production expertise on an array of entertainment, education and business software.
Prior to joining Digital Dream Forge, Marcos worked as a tester at D3Publisher of America and founded his own game company, Moonlite Games, where he also held the role of lead designer. Marcos holds a BA in Game Design from Collins College.
In high school, Marcos participated in the StRUT (Student Recycling Using Technology) program and helped refurbish over 1,000 computers to be used at other schools in his district.
While he feels quite at home in the digital world, his walls are lined with notebooks and sketchpads bursting with the early concepts and ideas he captures the old fashioned, analog way. Marcos' favorite game is Mega Man and favorite game systems are NES and SNES.
Chad Finley, SQA Manager

Chad joined the Digital Dream Forge team in 2011 as a Software Analyst. During his time at DDF, he has worked on a wide range of products from console games to mobile business apps. Throughout the years, Chad continued to take on more and more responsibilities and in 2018 was promoted to SQA Supervisor.
Prior to Digital Dream Forge, Chad attended Collins College for a Bachelors degree in Game Design. During this time he learned the ins and outs of developing, producing, storytelling, audio editing, programming and producing art for the game industry. Through all this learning, Chad acquired a passion for creating 3D art and animation. One of Chad's favorite projects was 3D modeling the Digital Dream Forge logo to be 3D printed as a game jam trophy.
In his spare time Chad can be found playing games for hours on end, binge watching Netflix, eating large amounts of food or working on art. Chad owns a quickly growing Pastel Enchi Ball Python named Dova, who is a natural at distracting Chad during his usual activities.
LET'S CONNECT
All Digital Dream Forge SQA experts are located in the US in Cookeville, Tennessee. We make real-time communication easy and convenient, allowing us to become a valued extension of your development team. Give us a call or send us an email today!
(931) 400-0905